Staying Compliant With Time-Based Maintenance and "Airworthiness"
As new regulatory requirements for additional maintenance logging have been introduced, we have been busy enhancing our Enterprise product to meet compliance requirements for your UAV operations. We're confident that these new features will help you manage your fleet more efficiently - whatever your mission may be!
Automatic Maintenance Tracking Overview - how does it work?
A primary goals of ours at AirData is to help you be a safe, well-informed pilot and one of the ways we do that is through automatic maintenance tracking.

Today, when your flight logs are uploaded to AirData, we do the heavy lifting of tracking your equipment's status, so you don't have to.
So, what kind of information are we gathering? AirData tracks your equipment's air time, the number of flights, and how many times your battery has been charged. We are then able to send you Alerts when maintenance is due on your drones and batteries.
While AirData has been effectively tracking maintenance items for millions of flights, we wanted to enhance this even further, to allow time tracking, so maintenance can be triggered after a certain amount of time, to meet both new manufacturer's and regulatory requirements.
NEW! - Time-Based Maintenance
In addition to AirData giving you a snapshot of charges, flights, and air time, you can now see how many days it has been since maintenance was last completed on a drone or battery. When the time comes, the system will automatically mark this maintenance as due, and can be configured to send out email alerts to notify anyone in the organization.

Why is time-based maintenance important?
With manufacturers and governing authorities starting to put more of an emphasis on routine maintenance, our new time-based feature will help you stay compliant while ensuring optimal equipment performance.
Sure, it is great to see how much air time your battery has had since maintenance was last completed on it, but what if you haven't used that battery in 6 months?
Just looking at the battery's current air time or charge count could give you the impression that maintenance is not needed. Knowing that it's not healthy for a LiPo battery to be idle for extensive periods, seeing the number of days since maintenance was last completed will give you a better overall picture of that battery's status.
Being able to quickly glance at this information for all of your drones and batteries will help you manage your fleet more efficiently, and having it done automatically will help you scale your operation and allow you and your pilots to focus more on the job, and less on the tracking.
How to set up Time-Based Maintenance
Now that we understand why time-based maintenance is important, let's discuss how to configure it within your AirData dashboard.
Jumping over to the MAINTENANCE tab, let's select "Service List." You will be able to set up time-based maintenance for each of these five service list items.
By selecting "Basic Battery," you will see an overview of what is included with a Basic Battery service. Notice that "Time-Based Days" has been added to the list of events that can trigger a maintenance action.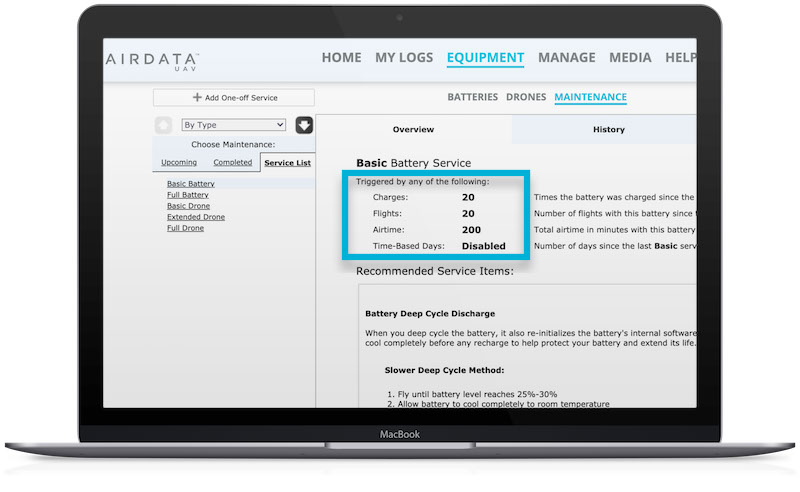 By default, "Time-Based Days" will be disabled - let's enable it by clicking on "Customize service." We can now enter a subjective number of our choosing. The number you choose will depend on a few factors...how often are you flying? Are your flights rigorous? Are they conducted in rough weather conditions? What does your drone's manufacturer manual say?
For this example, we will use the most common period - enter "180" (6 months) and click "Save."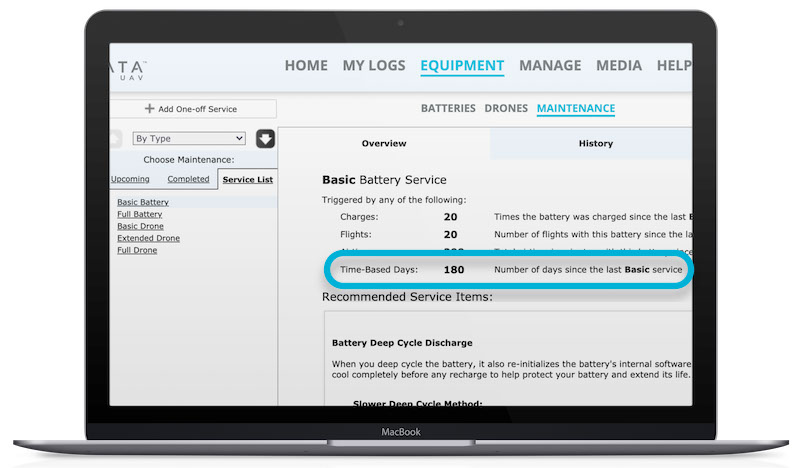 Heading over to the upcoming maintenance items, we can see that "Days" has been added. The image below is an excellent example of why Time-Based maintenance is important. We can see that it has been 214 days since the last Basic Drone service was completed on this Phantom 4 battery, but charges, flights, and air time all read "0".
This indicates that this battery has not been used since the last Basic Service was completed on it, but it would be prudent to give this battery the attention it needs to avoid prolonging the time it sits idle.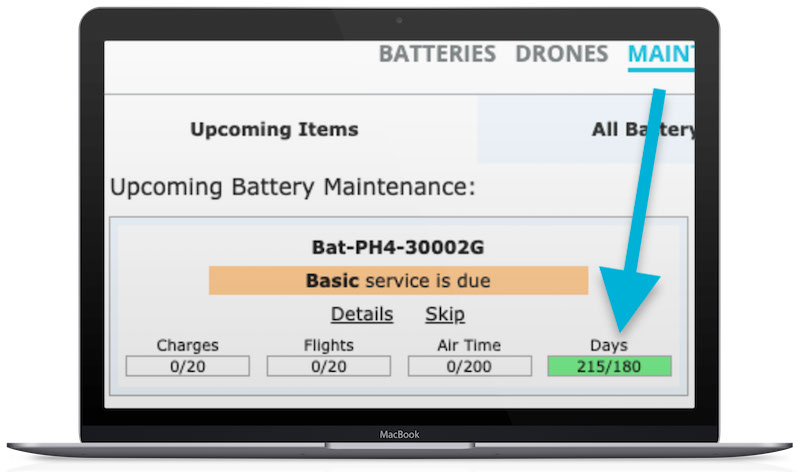 Getting Alerts when time-based maintenance is due
Sending you essential Alerts for maintenance due or pilot and equipment behavior is nothing new in the AirData service. We take pride in notifying you when important events occur, and our new time-based maintenance feature fits nicely into our Alerting system.
When setting up an Alert for maintenance due or maintenance due soon, you will receive a notification when any threshold is triggered, including time-based maintenance.
For the example above where the Phantom 4 battery did not have any charges, flights, or air time since the last "Basic Battery" service was completed, we would still get an Alert because the day count has surpassed the 180-day mark that we set.
NEW! Quickly see which drones are Airworthy
Further to the theme of managing your fleet more efficiently, we have added an "Airworthiness" section to the profile of each drone.
Remembering if a drone needs to be repaired or have maintenance conducted is not too difficult when you only have one drone, but what happens when your expanding drone operation takes your drone count to five...or fifteen? Was it your Mavic Pro or Mavic Enterprise that needed a gimbal repair?
By heading over to the "Equipment" -> "Drones" tabs, you can now quickly see each drone's status, which is indicated by (or lack thereof) a color.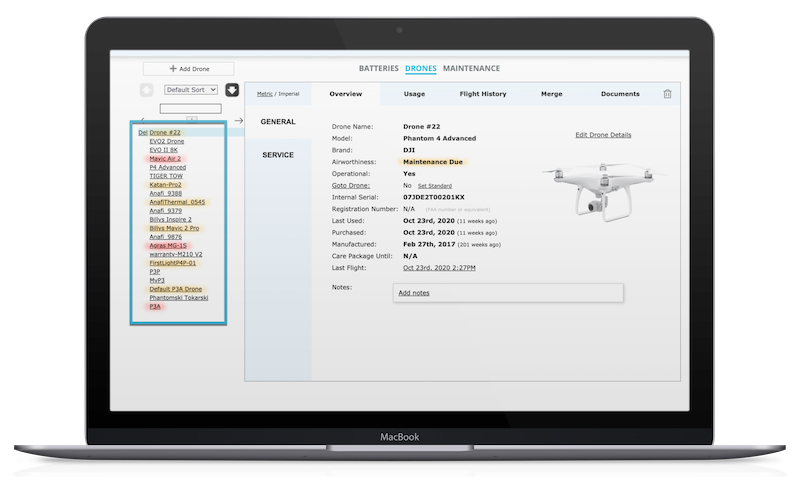 What do the colors mean?
As seen in the above image, some drones are highlighted with red, others with yellow, and some were absent of color. Here is what each indicates:
No color = Good to Fly. If the name of the aircraft is not highlighted, then one can assume that this aircraft is safe to fly with in its current state.
Yellow = Maintenance Due. A great way to quickly see if maintenance is due on a drone. What's even better is that AirData can automatically change the airworthiness status to "Maintenance Due" for you - more on that setup process below.
Red = Grounded. By marking an aircraft as "grounded", you are essentially stating that this aircraft should not be used for normal operations in its current condition. Maybe it was recently involved in a crash and is awaiting repairs - whatever the case may be, marking this aircraft as grounded sends a clear message to everyone on this AirData account.
How to change the airworthiness status of a drone
Only individuals with admin access can change the airworthiness status.
Changing the default airworthiness status of "Good to fly" is quick and easy - select the drone and click on "Edit Drone Details." Next, click on the "Airworthiness" dropdown and choose your desired airworthiness status. Once you hit "Save Drone Details", the status change will take effect immediately.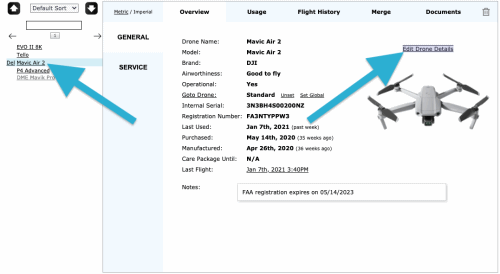 As previously mentioned, you can set it up to where AirData will change the airworthiness status to "Maintenance Due" automatically for you. To have that happen, head over to the "Maintenance" tab and select either "Basic Drone", "Extended Drone" or "Full Drone" under "Service List." Click on "Customize Service" and check the box pictured below. That's all you need to do - AirData will then automatically change the airworthiness status for you when maintenance is due.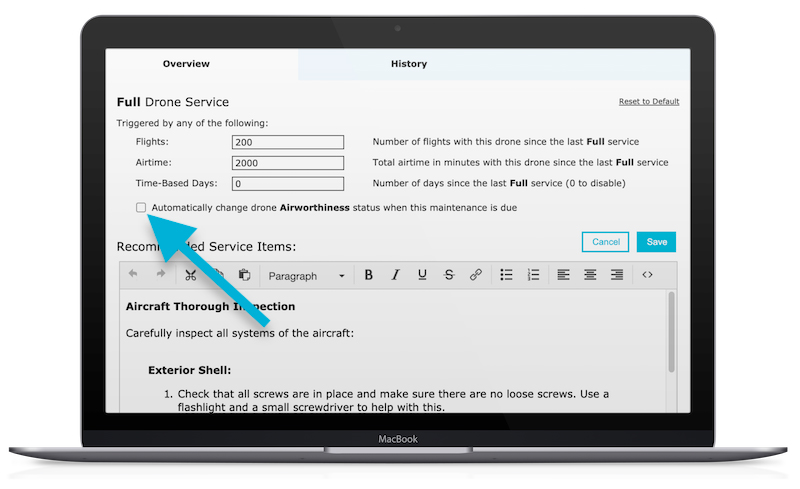 The team here at AirData is very excited about the addition of time-based maintenance and airworthiness, and we are thankful for your continued feedback and support in helping us build these new features!
Comments